0-150W Carrier 600W P.E.P CQUAM Promotion price.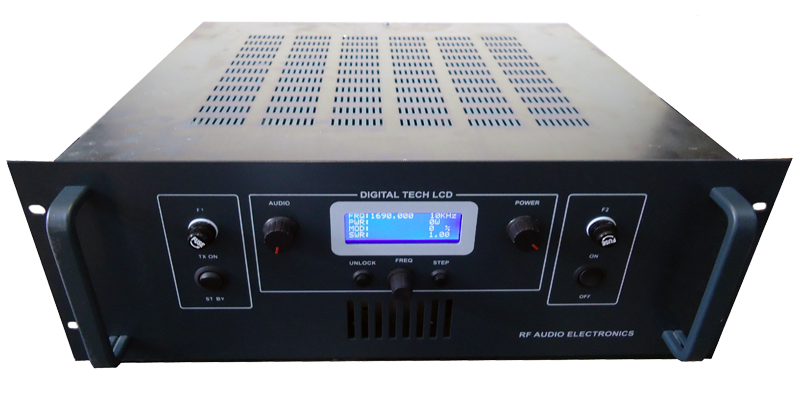 Product Number: AM-150W-CQUAM
Technical Specification for the 0-150W Carrier 600W P.E.P Stereo CQUAM DDS SYNTHESIZER
This unit is a highly efficient professional AM transmitter with up to 150W of clean output. Ideally suited for radio stations that demand broadcast quality and broadband operation (no-tune) - an integrated single box solution incorporating the exciter, RF amplifier, power supply and modulator, this transmitter can also serve as an exciter for driving external RF amplifiers. Its synthesized exciter with advanced DDS technology is designed for pristine audio quality and unsurpassed reliability, as numerous of our AM transmitters are operating trouble-free in some of the world's most remote installations.

All our AM transmitters are loaded with features, such as a front-panel LCD display, adjustable RF output power and modulation, underlying architecture that includes a unique DDS synthesizer, ultra-low distortion AM modulator integrated into a great performing, highly stable AM transmission system. The power amplifier is based on modern MOSFET devices & techniques. High airflow fans keep the power amplifier constantly ventilated, resulting in 24/7 low temperature operation. For the user's convenience, amplifiers are protected from damage by temperature control systems and antenna fault (VSWR) monitoring which react to faults by reducing the output power to a safe operating level, keeping you on air rather than shutting down completely.

Being more configurable and flexible than other units in their class, our units offer exceptional value with no compromise on performance.

Frequency range varies and is programmed according to regional regulations and order specifications.

Feel free to ask for any modification or add-on. As an electronics industry we are able to provide you with custom made design well suited for your specific needs.
| | |
| --- | --- |
| OPERATING FREQUENCY: | 520-1710KHZ |
| FREQUENCY STEP: | 1KHz DDS SYNTHESIZER |
| POWER ADJUSTMENT: | CARRIER 0~150W, (0~600W P.E.P) MAX |
| FREQUENCY RESPONSE: | 50HZ - 10KHZ ± 0.5DB |
| AUDIO INPUT: | XLR 600 OHM |
| RF OUTPUT: | COAXIAL FEMALE CONNECTOR SO239 (VHF), 50 OHM |
| HUM AND NOISE: | >-60DB |
| SWR PROTECTION: | YES |
| SEPARATION OF CHANNELS: | 30-35 DB |
| HI SWR INDICATOR: | YES |
| 24 HOUR OPERATION: | YES |
| THERMAL PROTECTION: | YES |
| WATT METER AND SWR METER INCLUDED: | YES |
| STEREO MODULATION METERS: | YES |
| INTERNAL POWER SUPPLY 115 / 230-240V AC: | YES |
| P.T.T SWITCH: | YES |
| REMOTE LINEAR RELAY CONTROL: | YES |
| BALANCE AUDIO IN XLR: | YES (OPTIONAL) |
| SIZE: | 4U RACK |
Contact us about this product!